---
Maricopa County Attorney Debate, 10/29/2012: Kielsky v. Montgomery
---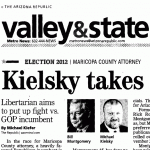 Kielsky takes on Montgomery
Libertarian aims to put up fight vs. GOP incumbent
The Arizona Republic, Thursday, October 25, 2012
---

Underdog libertarian aims to unseat county attorney
AzCentral.com, Wednesday, October 24, 2012
---
Ernest Hancock talks about the Michael Kielsky Campaign on "Declare Your Independence with Ernest Hancock", 10/17/2012
---
Video of signs put up by a supporter over US 60, 10/17/2012:
---
Addressing the crowd at the Canna Kush event in Tempe, 10/13/2012 (my brief talk starts at 10 minutes and 30 seconds into the video):
---
Listen to the recording of the live broadcast from 960 AM, 10/13/2012, 7 p.m. to 8 p.m.
---
Press Release on PRweb.com, issued 10/12/2012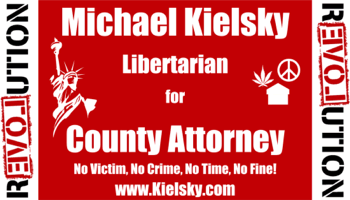 ---
Video of my speech at the Arizona Breakfast Club, 10/06/2012:
---
Michael Kielsky is a Liberty Candidate: http://libertycandidates.com/2012/10/michael-kielsky-liberty-candidate/
---
Video of my speech to the Phoenix NORML meeting, 10/03/2012:
---
Liberty, the Determining Factor! http://www.lfactor.org/
Michael Kielsky for Maricopa County Attorney listing on the "L" Factor

---
The Lou Show Interview, broadcast 9/23/2012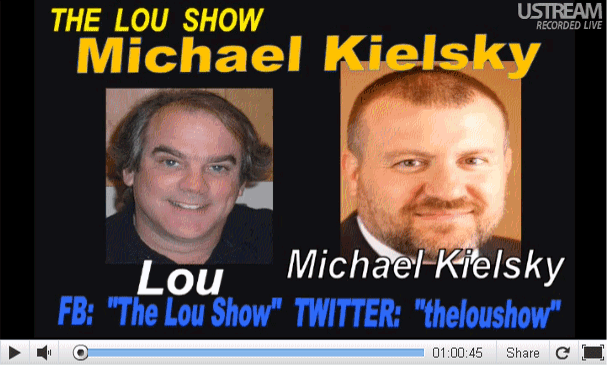 ---
Phoenix New Times, 08/10/2012: Should Voters "Choose Somebody Else" for County Attorney, as Bill Montgomery Suggests?

---
Phoenix New Times, 08/09/2012: Bill Montgomery Declares War on Medical-Marijuana Law; Craves Arrests of Patients, Caregivers and Dispensary Operators

---
Phoenix New Times, 07/19/2012: Bill Montgomery Joins the Morality Cops in Hating on Strippers

---
The Center for Arizona Policy sent me their "survey" — it is less a survey and more intended to promote their weird mix of less government, except when we really need a lot more government.
If you are curious about them, you can find out more about them at their Facebook page.
---
There is already a movement to recall the incumbent — Recall Maricopa County Attorney Montgomery.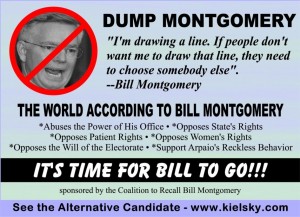 ---